All-On-4 – Greece, NY
Fast and Incredibly Comprehensive Tooth Replacement
Dental implants are quickly becoming the new standard when it comes to tooth replacement. The fact is dental implants replace teeth in a way that is truly unprecedented. Whether you need to have your top or bottom arched replaced with a set of natural-looking teeth, Dr. Joseph and Katherine Vollo are ready to ensure the most successful dental implant treatment possible. With All-on-4, you can get your smile replaced, begin the healing process, and eat the foods you enjoy without worry. Give our office a call to schedule your next appointment!
How Do All-On-4 Implants Work?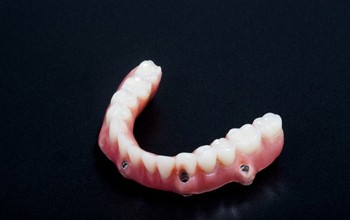 All-on-4 treatment utilizes a series of implants, specifically four, to hold one larger restoration, regardless of whether it's on the top or bottom arch in your mouth. However, All-on-4 is largely ideal for those intending to replace dentures on the bottom arch, which tend to shift out of place the most. Since each implant is specifically placed in a way that maximizes the amount of bone tissue in your jaw, you don't have to place nearly as many implants as you would for a traditional implant-retained denture. It's the most effective and quickest solution for severe tooth loss available in dentistry to date.
Am I A Candidate For All-On-4 Implants?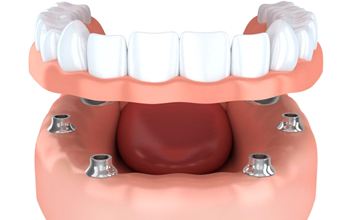 Most patients are candidates for All-on-4 treatment, even if they have had a denture for a long period of time. While some dental implant cases require additional treatments (i.e. bone grafts, sinus lifts, etc.), All-on-4 is specially intended to make use of the bone tissue that you do have. As long as you have good oral health overall and do not have untreated gum disease, you should be able to confidently receive dental implants in this way. The best way to confirm this is to schedule a consultation with an experienced implant dentist.
What Are the Benefits of All-On-4 Implants?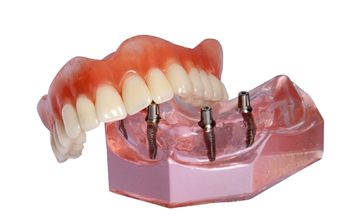 When you choose All-on-4, you're getting the most comprehensive tooth replacement option out there. Dental implants are designed to replace the entire tooth structure, not just the visible crown that makes up your smile. The result is a tooth that regularly stimulates bone tissue and keeps your biting force strong. It also ensures that you maintain the most natural-looking solution for your smile and your overall face. Unlike other methods of tooth replacement, your smile will last well over 25 years. This cannot be said for other methods, which generally require replacements every several years.
All-On-4 VS Traditional Dental Implants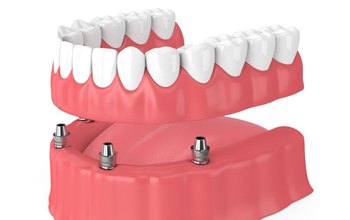 Implant-retained dentures work in a similar way to All-on-4, however, they are not quite as comprehensive. For one, it's likely that you will need more then four implants to effectively hold your permanent denture. Additionally, you won't be able to receive a denture right away after the implants are placed.
In contrast, All-on-4 gives you a temporary denture that you can wear as your implants heal, meaning that you won't need to sacrifice your smile as you undergo treatment. Furthermore, you should only need four implants total to hold the entire denture, reducing your overall costs and treatment length.