Benefits of Dental Implants – Rochester, NY
The Gold Standard of Tooth Replacement
Thanks to modern dental technology, techniques, and materials, there are a variety of ways you can replace your missing teeth. While each has its own advantages, only one holds the gold standard of tooth replacement: dental implants in Rochester. Thanks to their unique method of replacing teeth both above and below the gumline, dental implants can improve your quality of life in ways that other options simply can't. Read on to learn more about some of the most important benefits of dental implants, then give us a call here at Vollo Dental Group today to schedule your consultation!
Look & Feel Your Very Best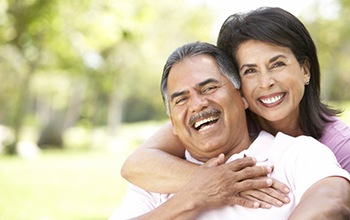 Dental implants are custom-made out of durable and lifelike materials for seamless results. In fact, once placed, dental implants are practically indistinguishable from natural teeth. However, dental implants aren't just good for the appearance of your smile. They also prevent jawbone deterioration and reduce your risk of oral and overall health issues as well so you can look and feel your best!
Eat All Your Favorite Foods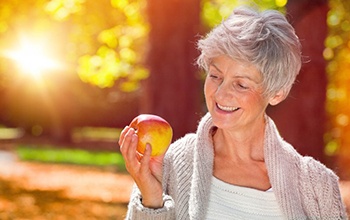 Eating with missing teeth or removable dentures can make it much more difficult to enjoy certain foods. Thankfully, with dental implants, you can continue to enjoy all your favorite meals with ease! Since they're anchored into your jawbone, they are incredibly sturdy and reliable. They can restore 85% or more of your natural biting force, allowing you to comfortably eat crisp apples, savory steaks, crunchy movie time snacks, and virtually anything else on your plate!
Speak, Chew, & Smile with Confidence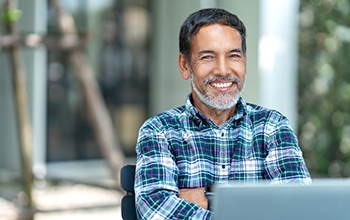 While traditional dentures are a classic way to quickly and easily replace missing teeth, they're notorious for slipping or popping out of place. You can easily become distracted, uncomfortable, or embarrassed while eating or talking with them. With dental implants, this concern is a thing of the past. Their firm foundation beneath the gums instead of on top of them ensures that you'll never feel them move around in your day-to-day life.
Easily Care for Your New Smile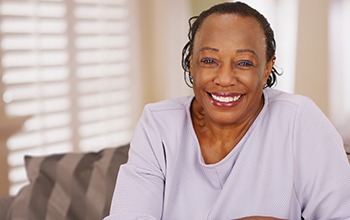 Not only do dental implants look and feel like natural teeth, but they're cared for just as easily as well! Simply brush your teeth for two minutes twice a day, clean between your teeth with floss daily, and use an antibacterial mouthwash regularly to keep the supportive tissues that help keep your dental implant in place strong and healthy. Throughout your dental implant treatment, your Rochester dentist will give you personalized advice and coaching that will help keep your new smile looking, functioning, and feeling its best for decades to come.
Enjoy a Healthy, Happy Smile for a Lifetime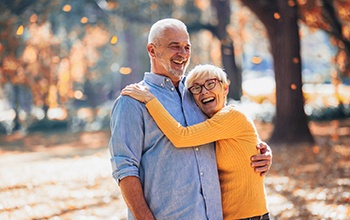 Dentures and dental bridges both lose their fit, become uncomfortable, and need to be replaced after several years of use. Not only is this inconvenient, but it can end up being quite expensive as well. On the other hand, dental implants are designed to be a permanent solution for tooth loss. In fact, you can easily expect to enjoy your newly rebuilt smile for life with the proper care!
If you're looking to replace your missing teeth with the next best thing, nothing compares to dental implants. Call us today to schedule a consultation with Drs. Joseph and Katherine Vollo to see if this life-changing treatment is right for you!