Dental Crowns – Rochester, NY
Rebuild Your Smile with Custom Crowns
Although composite resin has changed the way dentists deal with cavities, there's only so much that can be done with fillings. That's where dental crowns come in. No other treatment is as versatile as the dental crown, and our highly trained dentists are proud to give teeth a second chance after decay or damage. If you think your smile could benefit from dental crowns, you can contact us to schedule an appointment at our Rochester office!
What is a Dental Crown?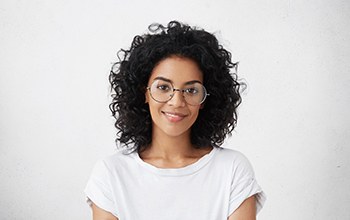 A dental crown in Rochester is an individual restoration that is designed to cover an ailing single tooth, both repairing its appearance and protecting what remains of the original structure. Crowns are very versatile and can be used effectively in the following cases:
When a tooth is suffering from a big cavity that can't be treated with a filling.
When a tooth is badly injured and needs additional support.
When a tooth is weakened and has a high risk of fracturing.
When a tooth is misshapen and you would like to improve its appearance.
When a tooth has just undergone root canal therapy and needs protection against future damage.
When a single dental implant needs a restoration.
The Dental Crown Process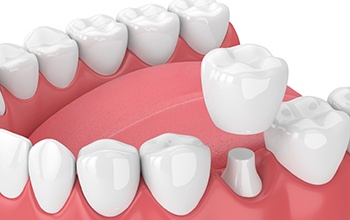 Dental crowns traditionally require two appointments to complete. During the first visit, we "prepare" the tooth, meaning we perform root canal therapy, cavity treatment, or whatever is needed to make the tooth clean and ready for restoration. Then, we take impressions of your teeth and send this information to a dental lab. While the lab fabricates the custom crown, you wear a temporary crown. Then, you return to our office to have the crown bonded into place.
As an alternative to this traditional option, here at Vollo Dental Group, we're now happy to offer CEREC one-visit crowns as an efficient and fulfilling option when possible.
The Benefits of Getting a Dental Crown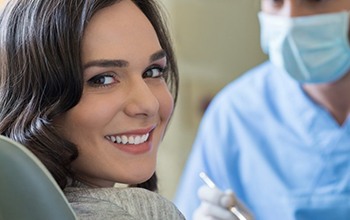 Crowns are designed to perfectly imitate real teeth. In fact, the material reflects light like natural enamel, giving crowns that lifelike appearance. Plus, the durable porcelain usually lasts up to 20 years with the proper care! In many cases, a protective dental crown is the last chance a tooth has before being extracted. In other words, dental crowns help to salvage teeth that otherwise would be lost entirely.
Dental Crowns and Bridges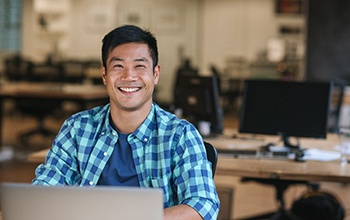 There is another important function that dental crowns perform—stabilizing dental bridges. Dental bridges are sturdy restorations that are designed to replace one or more missing teeth in a row that have been fully lost. They're meant to literally "bridge" the gap by attaching prosthetic teeth to dental crowns on each end. These crowns then are affixed over natural teeth or dental implants on either side and hold the bridge in place.