CEREC® 1-Visit Crowns in Rochester
Repair Teeth in Record Time
Receiving a new dental crown typically takes two appointments, as well as weeks of waiting with a temporary crown. At Vollo Dental Group, we're happy to provide our valued patients with efficient, more convenient results without sacrificing quality in the process. That's why our doctors have invested in revolutionary CEREC technology here in Rochester, NY. Contact us today to schedule an appointment!
How Does CEREC Work?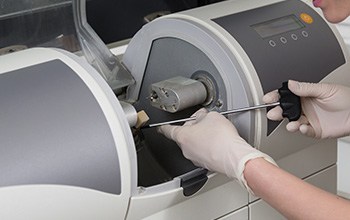 CEREC (Chair-side Economic Restoration of Esthetic Ceramics) consists of an advanced computer software and an in-house milling unit. We'll start by adjusting your affected teeth and capturing fully digital, no-contact impressions of the area. Then, our doctors will use these impressions to design the ideal dental crown for your unique smile. Once the design is complete, it is sent to the milling unit, which creates the permanent crown from a block of lifelike dental ceramic. Finally, we'll polish the new restoration and make any last-minute adjustments before seating it over the tooth. The whole process only takes one appointment!
What are the Benefits of CEREC?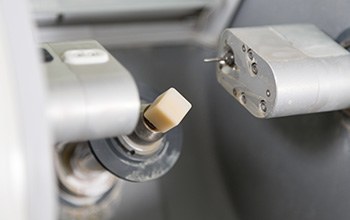 All impressions are handled digitally – no "goopy" materials!
Patients won't have to wear a temporary restoration.
Your new dental crown will be the same as what is created in a lab in terms of strength, function, and lifelike appearance. In fact, we use the same materials that we prescribe for most of our lab produced crowns.
The treatment timeline is greatly sped up and patients won't need to make multiple trips.