Emergency Dentist – Rochester, NY
Fast, Compassionate Care When You Need It Most
Dental emergencies can strike at a moment's notice, leaving families panicked, inconvenienced, and in need of treatment right away. Thankfully, your team here at Vollo Dental Group is here to provide fast, compassionate care when you need it most. Our doctors take these urgent situations seriously, and they'll find time in their schedule as soon as possible to accommodate you or your loved one. Whether you're a brand-new patient or a current one, we're here to help! Don't hesitate – contact our Rochester, NY practice today.
Why Choose Vollo Dental Group for Emergency Dental Care?
Dental Insurance Welcome & Flexible Financing Available
Same-Day Appointments for Emergency Patients
Same-Day Dental Crowns & Other Treatments
What to Expect in a Dental Emergency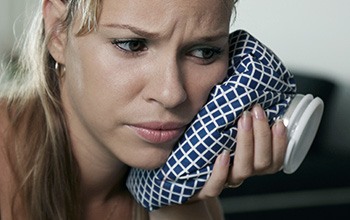 Dental emergencies are far more common than you may think. When you know how to respond quickly and effectively, you can save yourself from losing a tooth or causing your mouth further damage. To make sure you feel prepared in case of a stressful dental dilemma, outlined what you should do in a dental emergency:
Call us for a same-day appointment: Give us a call right away so we can schedule your appointment as soon as possible. We'll also provide you with first-aid instructions on how to handle your situation until you reach our office.
Get an emergency exam: When you arrive, one of our talented dentists will examine you right away, taking X-rays as necessary, to determine the source and extent of the issue.
Review your treatment options: Afterwards, we'll review our findings with you and explain your treatment options, including how they work, how long they'll take, and about how much they'll cost.
Get the care you need: As soon as you've created a treatment plan with your Rochester emergency dentist, we'll get to work right away to get you out of pain and preserve your smile.
The Most Common Dental Emergencies
Are you worried about visiting your emergency dentist in Rochester because you don't want to make a big deal out of something that may be small? There are a ton of patients who panic over this dilemma, and we're here to set the record straight so you can act fast. Although you may not want to overreact, leaving oral health problems untreated often only makes them worse. If you have any of the following signs, symptoms, or emergencies, don't hesitate to give us a call!
How to Prevent Dental Emergencies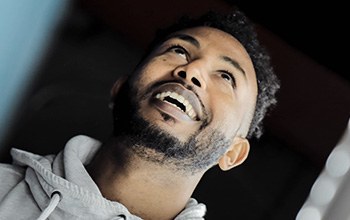 Schedule regular checkups and cleanings at Vollo Dental Group! Our doctors can identify and treat the minor dental problems of today before they become the emergencies of tomorrow.
Be careful when eating foods that are overly sticky or tough. Also, don't chew on the ice in your drink.
Use scissors when opening difficult packaging and not your own teeth.
If you experience bruxism (teeth grinding) on a regular basis, make sure to wear your nightguard as directed.
Dental Emergency FAQs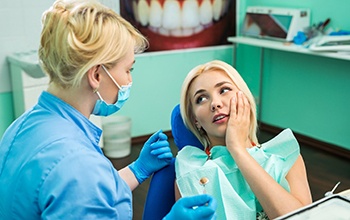 Dental emergencies are stressful, frightening, and can happen when you least expect them to. For that reason, it's completely understandable to have several questions while handling the situation. At Vollo Dental Group, we want you to be armed with the information you need to manage these unfortunate circumstances with ease. That's why we've decided to answer a few of the most common questions we've received over the years. If you don't see your specific question below, feel free to give our office a call!
Will My Toothache Go Away on Its Own?
Since most toothaches are caused by decay, they won't go away until the problem is addressed. Because of that, you should make an appointment with our team as soon as possible to ensure nothing is wrong. We'll conduct a thorough oral examination to help identify and treat the underlying issue. Early intervention will allow us to address your tooth pain and prevent it from turning into a severe complication down the line.
How Should I Sleep with Tooth Pain?
If you have a nagging toothache, it may keep you from getting some much-needed sleep at night. The best way to manage it is by keeping your head elevated. Doing so will prevent blood from rushing to your head and intensifying the pain. Additionally, you can take over-the-counter pain medication as needed and use a cold compress to alleviate your discomfort. Make sure you avoid eating acidic, cold, and hard foods right before bed as well!
Do Chipped Teeth Heal?
Enamel may be the hardest substance in the human body, but it cannot heal on its own. Therefore, it's safe to say that a chipped tooth will never grow back, regardless of the extent of the damage. You'll need to explore your restorative and cosmetic dentistry options to improve the shape and condition of your injured tooth. If you have a chipped tooth, make sure you schedule an appointment with our team right away to get your smile back to normal.
What Should I Keep in My Emergency Dentistry Kit?
You can take every safety precaution in the world, and a dental emergency can still occur – that's just life! Luckily, you can prepare for the unexpected by keeping an emergency dentistry kit with you at all times. Here are a few essential items your bag should include:
Small sealable container for teeth or restorations
Sterile gloves
Gauze pads and dressings
Cotton balls
Denture adhesive
Petroleum jelly
Floss
Ice pack
Anti-inflammatory medication like ibuprofen
Your emergency dentist's contact information