Teeth Whitening – Rochester, NY
Brightening Your Radiant Smile
It happens to everyone. Your teeth can appear yellow or dull with exposure to highly pigmented foods and drinks. Even just with normal wear and tear, your teeth can lose their youthful whiteness. The good news is that you can get it back! Although you could try commercial whitening products, they don't deliver the dramatic results that they promise. At Vollo Dental Group, we offer two professional-strength treatment options that can restore your smile's natural radiance: Zoom! in-office treatment and at-home whitening kits.
Zoom! In-Office Whitening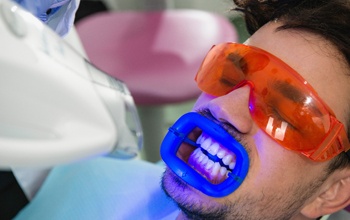 For those in a rush, Zoom! in-office whitening may be the best choice. In just one one-hour appointment, you could see your smile improve up to ten shades! Our in-office treatment goes as follows:
We document the color of your teeth to compare to the final results.
Then, we clean your teeth to prevent debris from interfering with the whitening solution's effectiveness.
To protect your gums and soft tissue, we isolate your teeth using gauze and a cheek retractor.
We apply the highly concentrated solution to the front surfaces of your teeth and shine a special light on them to activate the whitening agent.
We may apply additional coatings of the solution to get better results.
When we're finished, we'll rinse your teeth and give them a fluoride treatment to help with any sensitivity.
Finally, you get to see the difference between before and after treatment.
Down the road, you can use take-home whitening kits to touch up your teeth and maintain the whiteness you've achieved.
At-Home Kits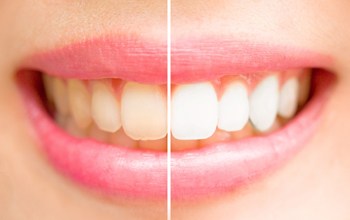 Some people just don't have room in their schedules to spend extra time in a dental office for treatment, but they want the same dramatic impact on their smile. That's why we also offer take-home whitening kits that can be used every day at your convenience. For the best results, you need to follow the instructions we give you, but here is how the general process of take-home whitening goes:
We take impressions of your teeth that will be used to create your custom whitening trays.
We also document the original color of your teeth.
When your trays are ready, you can begin treatment. Start by brushing and flossing your teeth so that they are as clean as possible.
Apply the whitening gel to the trays as instructed.
Wear the trays for as long as we tell you while watching your favorite shows, playing on your phone, doing chores—basically whatever you want, except eating.
Repeat steps 3 through 5 every day for about two weeks. By then, you should notice your teeth becoming whiter.
Because we truly care about each of our patients, we want to help them achieve their goals and have a smile they are proud of. To schedule a consultation and start teeth whitening treatment with us, contact our Rochester office today!