Dental Implants - Rochester, NY
Complete Your Smile with a Stable, Beautiful Solution
Facing the day without a complete and confident smile can often be a struggle; thankfully, this situation doesn't have to be permanent with Vollo Dental Group's experienced support. We offer several reconstructive services for regaining what's been lost, and dental implants in Rochester are right at the top of the list because of their outstanding health and aesthetic benefits.
You may not know this, but your natural tooth is composed of two distinct parts: the white, visible crown and the root beneath the gums. Without a tooth root in place, patients are likely to experience jawbone deterioration and damaged oral health as a result. Dental implants are the only treatment option that starts with this essential support system, creating a finished "tooth" that is complete, strong, and long-lasting.
Dental implants have truly changed the way we approach dentistry. Whether our team is working on replacing a single tooth, stabilizing a denture, or recreating an entire arch of teeth, they've given us the ability to solve the serious problems caused by tooth loss with long-term success and predictability. To get started here in Rochester, NY, please don't hesitate to contact our office! Dr. Joseph Vollo, Dr. Katherine Vollo, and the rest of our team look forward to meeting you.
Benefits of Dental Implants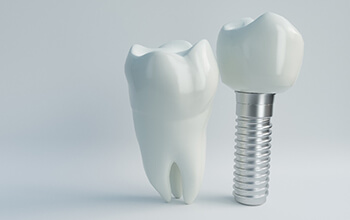 Whether you are missing a single tooth or have lost an entire arch, dental implants offer a wealth of benefits for your smile. Some of the most significant advantages of this comprehensive tooth replacement option include:
Provides a replacement which mimics the natural tooth structure for unsurpassed stability and security.
Supports a balanced, nutritious diet.
Facilitates easier, clearer speech.
Can correct prior dental misalignments.
Unlike non-implant retained options, which need to be replaced periodically, dental implants can remain stable and secure for decades.
The best financial investment you can make in tooth replacement.
Helps patients achieve a confident, healthy, lasting smile that can last a lifetime.
And many other benefits for oral and overall health!
Indications for Dental Implants
Your options for dental implants include solutions for a single tooth, multiple missing teeth, or a full arch of missing teeth in the upper or lower jaw.
Missing One Tooth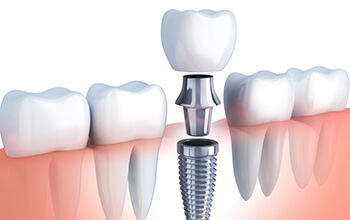 An implant-supported dental crown is the very best option for rebuilding the single missing tooth. Unlike with a fixed bridge, a dental implant will not harm the surrounding natural teeth. The implant post is placed beneath the gum line and allowed to heal together with the jaw. After 4 to 6 months, it is exposed once more and restored with a natural-looking dental crown.
Learn More About Single Tooth Implants
Missing Multiple Teeth
For patients who are missing several teeth, an implant-retained bridge can be used to replace consecutive missing teeth by anchoring in place over two implants which have been placed on either side of the gap.
Missing All Teeth
Dental implants can also be used to effectively replace several teeth or even an entire arch! Instead of using one implant per tooth, this technique can save our patients cost while still providing them with revitalizing, long-term improvements. Implant-retained dentures come in two major forms – the hybrid model is designed to be permanently fixed in place within the mouth, while overdentures remain removable in nature for patients who are already used to this convenience.
Bone Grafting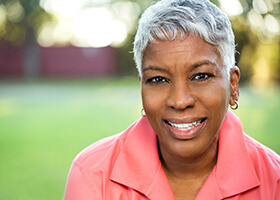 Once tooth loss occurs and the jawbone no longer has any stimulation in the form of a root in place, deterioration is likely to become a gradual process. If a patient has been missing teeth for many years and is now interested in dental implants, we may find that their remaining bone structure in the necessary areas cannot successfully support the placement. However, this doesn't have to be a problem! Your dentist in Rochester can perform a site-specific bone grafting procedure as a solution to recreate an adequate foundation for implant placement.
Socket Preservation
When we extract a natural tooth for whatever reason, a small hole is left in the mouth that can shrink and recede very quickly. In order to preserve this area for the eventual placement of a dental implant, socket preservation can be performed. This can be accomplished in several ways, including the addition of new bone material, an artificial membrane, or stimulating proteins. Our goal is to heal the surgical site while preventing the collapse of nearby tissue and create a solid foundation for the new implant down the road.
Cost of Dental Implants
Dental implants come at a higher cost than other options in tooth replacement, but they are well worth the investment. They are priced higher because the treatment requires the initial oral surgery as well as the placement of the abutment and the final restoration. Plus, only the highest-quality materials are used for implant procedures. There is no fixed price for dental implants, and the total cost of your procedure will depend on how many teeth you are missing, where in the jaw the gaps are located, and other factors. But, no matter the cost of your dental implants, they are well worth the investment in your healthy, lasting smile!