Dental Implants — Rochester, NY
Complete Your Smile with a Stable, Beautiful Solution
Facing the day without a complete and confident smile can often be a struggle; thankfully, this situation doesn't have to be permanent with Vollo Dental Group's experienced support. We offer several reconstructive services for regaining what's been lost, and dental implants in Rochester are right at the top of the list because of their outstanding health and aesthetic benefits.
Dental implants have truly changed the way we approach dentistry. Whether our team is working on replacing a single tooth, stabilizing a denture, or recreating an entire arch of teeth, they've given us the ability to solve the serious problems caused by tooth loss with long-term success and predictability. To get started here in Rochester, NY, please don't hesitate to contact our office! Dr. Joseph Vollo, Dr. Katherine Vollo, and the rest of our team look forward to meeting you.
Why Choose Vollo Dental Group For Dental Implants?
Entire Dental Implant Treatment Completed Under One Roof
Permanently Replace Any Number of Missing Teeth
Advanced Technology & Additional Procedures for Long-Lasting Results
What Are Dental Implants?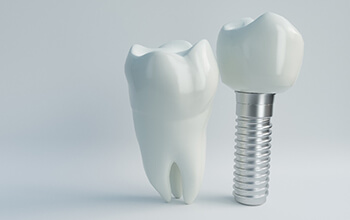 Dental implants are widely regarded as the gold standard for tooth replacement because they're the only option designed to replace the entire structure of a missing tooth. Your natural teeth are composed of two distinct parts: the white, visible crown and the root beneath the gums. Traditional restorations like dentures and dental bridges only restore the crowns of teeth. Not only does this often leave much to be desired in terms of stability and comfort, but it usually leads to jawbone loss and poor oral health as well.
Dental implants are the only treatment option that replaces the roots of missing teeth. A small titanium post is inserted into the jawbone, where it fuses with the surrounding tissue to form a strong, reliable foundation. On top of the post, a small abutment holds the final restoration in place. This crown, bridge, or denture is custom-made from the highest quality materials for truly seamless, natural-looking results. In the end, you'll have a smile that looks, feels and functions just like natural!
The Dental Implant Process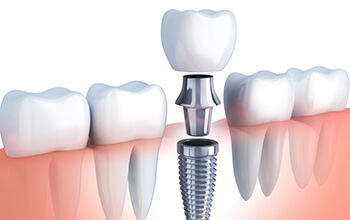 After we verify that you are a good candidate for a dental implant, you'll undergo the placement surgery. During the procedure, one or more dental implants posts (depending on how many teeth you're missing) will be inserted into your jawbone. After the incision is closed, you'll go through a healing period of several months. During this time, the implant will bond with the bone tissue around it. In the end, it will serve as a substitute for the root of your missing tooth.
After your healing period, an abutment will be attached to the top of the implant. The abutment's purpose is to secure a custom dental crown, bridge, or denture to the top of implant to replace the visible portion of a missing tooth.
Benefits of Dental Implants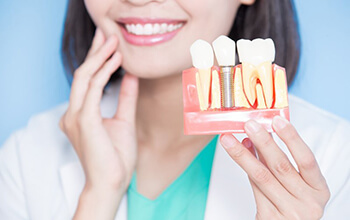 Thanks to modern dental technology, techniques, and materials, there are a variety of ways you can replace your missing teeth. While each has its own advantages, only one holds the gold standard of tooth replacement: dental implants in Rochester. Thanks to their unique method of replacing teeth both above and below the gumline, dental implants can improve your quality of life in ways that other options simply can't. Read on to learn more about some of the most important benefits of dental implants!
Look & Feel Your Very Best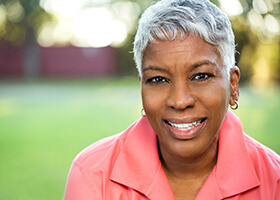 Dental implants are custom-made out of durable and lifelike materials for seamless results. In fact, once placed, dental implants are practically indistinguishable from natural teeth. However, dental implants aren't just good for the appearance of your smile. They also prevent jawbone deterioration and reduce your risk of oral and overall health issues as well so you can look and feel your best!
Eat All Your Favorite Foods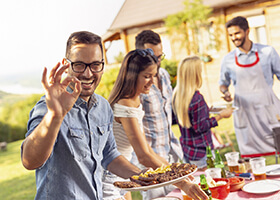 Eating with missing teeth or removable dentures can make it much more difficult to enjoy certain foods. Thankfully, with dental implants, you can continue to enjoy all your favorite meals with ease! Since they're anchored into your jawbone, they are incredibly sturdy and reliable. They can restore 85% or more of your natural biting force, allowing you to comfortably eat crisp apples, savory steaks, crunchy movie time snacks, and virtually anything else on your plate!
Speak, Chew, & Smile with Confidence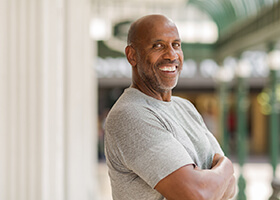 While traditional dentures are a classic way to quickly and easily replace missing teeth, they're notorious for slipping or popping out of place. You can easily become distracted, uncomfortable, or embarrassed while eating or talking with them. With dental implants, this concern is a thing of the past. Their firm foundation beneath the gums instead of on top of them ensures that you'll never feel them move around in your day-to-day life.
Easily Care for Your New Smile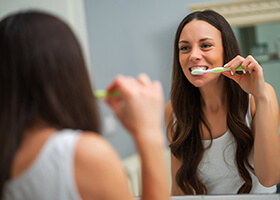 Not only do dental implants look and feel like natural teeth, but they're cared for just as easily as well! Simply brush your teeth for two minutes twice a day, clean between your teeth with floss daily, and use an antibacterial mouthwash regularly to keep the supportive tissues that help keep your dental implant in place strong and healthy. Throughout your dental implant treatment, your Rochester dentist will give you personalized advice and coaching that will help keep your new smile looking, functioning, and feeling its best for decades to come.
Enjoy a Healthy, Happy Smile for a Lifetime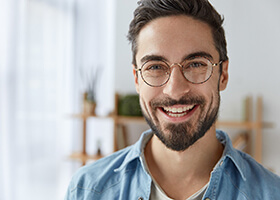 Dentures and dental bridges both lose their fit, become uncomfortable, and need to be replaced after several years of use. Not only is this inconvenient, but it can end up being quite expensive as well. On the other hand, dental implants are designed to be a permanent solution for tooth loss. In fact, you can easily expect to enjoy your newly rebuilt smile for life with the proper care!
Who Dental Implants Can Help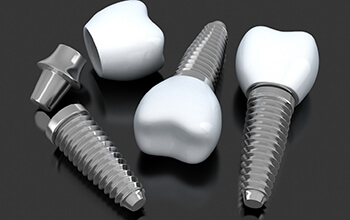 Whether you are missing a single tooth or have lost an entire arch, dental implants offer a wealth of benefits for your smile. Your options for dental implants include solutions for a single tooth, multiple missing teeth, or a full arch of missing teeth in the upper or lower jaw.
Missing 1 Tooth
An implant-supported dental crown is the very best option for rebuilding the single missing tooth. Unlike with a fixed bridge, a dental implant will not harm the surrounding natural teeth. The implant post is placed beneath the gumline and allowed to heal together with the jaw. After 4 to 6 months, it is exposed once more and restored with a natural-looking dental crown.
Missing Multiple Teeth
For patients who are missing several teeth, an implant-retained bridge can be used to replace consecutive missing teeth by anchoring in place over two implants which have been placed on either side of the gap.
Missing All Teeth
Dental implants can also be used to effectively replace several teeth or even an entire arch! Instead of using one implant per tooth, this technique can save our patients cost while still providing them with revitalizing, long-term improvements. Implant dentures come in two major forms – the hybrid model is designed to be permanently fixed in place within the mouth, while overdentures remain removable in nature for patients who are already used to this convenience.
Learn More About Implant Dentures
Understanding the Cost of Dental Implants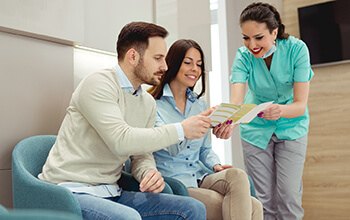 Dental implants come at a higher cost than other options in tooth replacement, but they are well worth the investment. They are priced higher because the treatment requires the initial oral surgery as well as the placement of the abutment and the final restoration. Plus, only the highest-quality materials are used for implant procedures. There is no fixed price for dental implants, and the total cost of your procedure will depend on how many teeth you are missing, where in the jaw the gaps are located, and other factors. But, no matter the cost of your dental implants, they are well worth the investment in your healthy, lasting smile!
Types of Dental Implants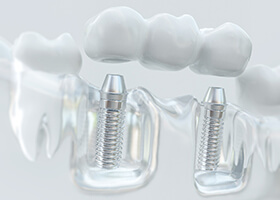 You may not have guessed it, but there are several different types of dental implants. Depending on your needs, your dentist in Rochester will discuss the different options with you at your initial consultation. Factors like how many posts you need and what materials they're made from do affect the cost.
If you're planning on having a single tooth replaced with an implant-retained crown, that's going to be a less expensive procedure that an implant denture that requires anywhere from four to six posts to be placed. Dr. Vollo can walk you through the different factors and help breakdown the price of your procedure during your first appointment.
Stages of Dental implant Treatment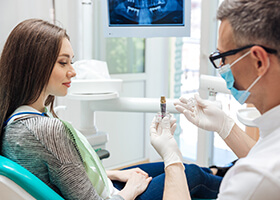 The process of getting implant-retained restorations can be broken down into a few stages. The great thing about this is that you won't need to pay for everything at once. Rather, you'll pay for each procedure you have over the course of several months. Here are the different stages you can expect to pay for:
Initial Consultation: Your initial consultation will consist of an office fee as well as digital images that will be captured of your mouth and facial structure to inspect your oral health.
Preparatory Procedures: Some patients need additional procedures such as bone grafts, tooth extractions, or a sinus lift before their implant surgery can be scheduled.
Implant Surgery: Whether you need anesthesia or sedation during your surgery, these will impact the cost.
Abutment and Restoration Placement: After your gums have healed and your posts have naturally fused with your jawbone, your implant dentist, Dr. Joseph Vollo, will place your abutments. These are connector pieces that attach your restorations securely in your mouth. Depending on whether you need a bridge, crown, or denture, the cost will vary.
Are Dental implants Worth the Investment?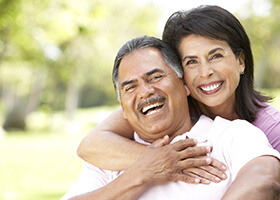 Patients and professionals will agree that yes, dental implants are well worth the investment of time and money. They're a cost-effective solution that can last for several decades with the right care. Plus, they reduce your risk of developing oral health problems down the road and prevent jawbone erosion and additional tooth loss.
Does My Dental Insurance Cover Dental Implants?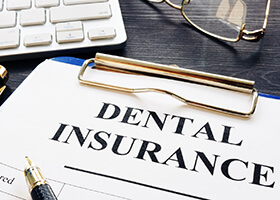 To find out if your insurance policy covers dental implants, it's best to contact your provider. However, most insurance companies consider this procedure to be cosmetic. At Vollo Dental Group, we don't want our patients to have to put necessary oral health treatments on hold because of their budget, which is why we offer additional financing options. These are budget-friendly payment plans through CareCredit that have little or even no interest attached. We'll be more than happy to help walk you through the process, or you can fill out the application online!
Dental Implant Technology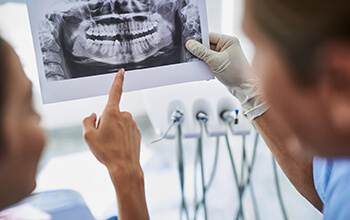 Dental implants enjoy a very high success rate, which is due in large part to the fact that dentists take great care during every stage of the procedure. However, it takes more than a skilled, caring dentist near Greece to ensure that the dental implant treatment goes as smoothly as possible from beginning to end. Having the right technology is also essential. At Vollo Dental Group, we fully recognize that fact. That is why we have invested in a CBCT scanner. Read on to learn more about this remarkable machine and the role it plays in the dental implant process.
What Is the CBCT Scanner?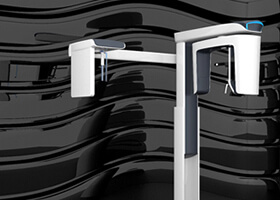 CBCT stands for "cone beam computer tomography." Similar machines, called CT machines, are often used in hospitals to help doctors get a clear view of what is happening beneath the skin. It is used when the level of detail provided by typical X-rays is not sufficient. The same is true of the CBCT scanner in dentistry. It helps us to get an in-depth, three-dimensional view of, not just a patient's teeth, but also the nerves, connective tissues, and other structures in the head and neck.
The machine works by emitting a cone-shaped beam of radiation (the same type of radiation used for X-rays). It captures countless images, and then those images are assembled in a way that makes it easy for a dentist to analyze them.
The CBCT Scanner & Dental Implants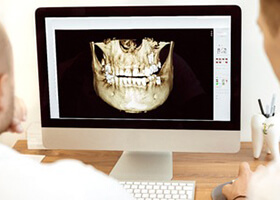 The CBCT scanner is particularly useful during the dental implant process because the detailed, three-dimensional images it provides help us to plan the entire tooth replacement journey. For example, a scan can let us know if there is enough room in your jaw to support the implants, or if your sinus cavities have become enlarged to the point where a sinus lift is necessary before your implant placement surgery.
The images are also essential in helping the doctor who will place the implants to know what to expect during the surgery. If there is anything unusual about your oral anatomy, the doctor can anticipate those issues and thereby greatly reduce your risk of suffering from complications.
What to Expect During a CBCT Scan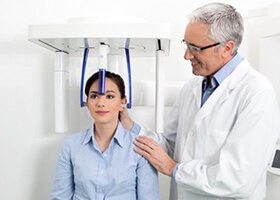 The CBCT scanning process is simple, quick, and painless. Before your scan, we may ask you to remove jewelry, eyeglasses, and anything else that might interfere with the final images. Then, we'll help to position you correctly in the machine. You'll need to stay very still as the machine's arm rotates around you. It usually does not take more than 20 – 40 seconds to complete a scan.
Although the CBCT scanner emits a higher level of radiation than normal X-rays, it is safe for most patients. Just be sure to let us know if you are pregnant so we can be extra-aware of the need to take precautions.
Our CBCT scanner is a remarkable piece of technology that can aid in the successful placement of dental implants near Greece. To learn more about it, or about any aspect of the dental implant procedure, contact our team today.
Advanced Dental Implant Procedures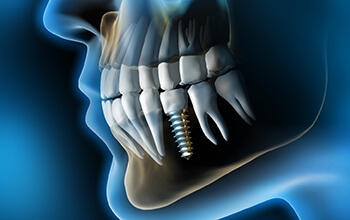 At Vollo Dental Group, we truly believe that dental implants are the best way to replace missing teeth. That's why we recommend it for practically any patient suffering from tooth loss! However, many patients are not initially good candidates for dental implants, especially if they've had missing teeth for a long time. To help as many of our patients benefit from dental implants as possible, we're proud to offer advanced dental implant procedures to help address any issues that may stand between you and rebuilding your smile with dental implants.
Bone Grafting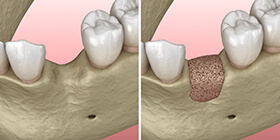 Once tooth loss occurs and the jawbone no longer has any stimulation in the form of a root in place, deterioration is likely to become a gradual process. If a patient has been missing teeth for many years and is now interested in dental implants, we may find that their remaining bone structure in the necessary areas cannot successfully support the placement. However, this doesn't have to be a problem! Your dentist in Rochester can perform a site-specific bone grafting procedure as a solution to recreate an adequate foundation for implant placement.
Socket Preservation After Tooth Extraction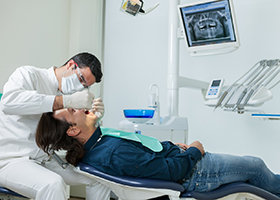 When we extract a natural tooth for whatever reason, a small hole is left in the mouth that can shrink and recede very quickly. In order to preserve this area for the eventual placement of a dental implant, socket preservation can be performed. This can be accomplished in several ways, including the addition of new bone material, an artificial membrane, or stimulating proteins. Our goal is to heal the surgical site while preventing the collapse of nearby tissue and create a solid foundation for the new implant down the road.
Dental Implant FAQs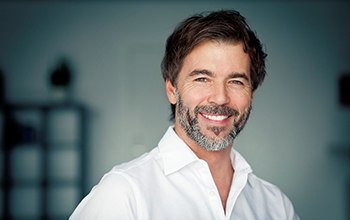 Whether you're learning about dental implants for the first time or you've been researching them for a while and don't have answers to some of your questions, you're always welcome to give our office a call directly to address your concerns. We want nothing more than to help you feel confident about your tooth replacement, which is why we have included a few of the most common questions our team has received over the years regarding dental implants.
Are Dental Implants Safe?
If you have good oral and overall health, you can expect dental implants to be very successful when placed by a professional who plans your treatment properly. However, those who have low jawbone density or gum disease will need to have these problems addressed ahead of time before oral surgery can occur. Additionally, if you have a preexisting condition, such as cancer, diabetes, or other medical issues that could increase the risk or healing effectiveness of your implant, we'll make sure to discuss it with you during your consultation.
Am I Too Old to Get Dental Implants?
Technically, there is no age limit to receive dental implants. As soon as you are a full-grown adult and your jawbone has fully developed, you should be able to replace teeth through this procedure. With that said, older folks tend to have other health issues that can make the dental implant process more complicated, but not impossible. These concerns will be addressed during your initial consultation with our team.
Can I Take Dental Implants Out?
Dental implants are designed to mimic tooth roots as closely as possible, which means they are not designed to be removed once they are fully integrated. With that said, certain implant dentures can be removed for more effective cleaning, but even this option does not involve removing the actual implants.
What Should I Do If My Dental Implant Feels Loose?
The moment you notice your dental implant feeling loose or shifting out of place, give our office a call right away. Much like how your natural tooth should never feel loose, a loose dental implant is an indicator that the implant is failing due to infection (peri-implantitis) or because the post never integrated properly with the bone tissue.
How Long Does Dental Implant Surgery Take?
The length of your implant procedure will vary depending on what treatments are needed ahead of time as well as the number of implants that need to be placed. A single implant can take one to two hours to place, which includes the time it takes to administer necessary anesthesia. We'll also need to dress you so a sterile, surgical environment can be created.