Dental Bridges – Rochester, NY
Bridging the Gaps in Your Smile
Are you missing a tooth? Or several teeth in a row? Your pearly whites may be small, but missing even one can cause big problems in your life. Your teeth will begin to shift out of place and you'll be at a higher risk of oral health issues like gum disease. Plus, a gap in your smile can take a huge toll on your confidence! Fortunately, at Vollo Dental Group, we can seamlessly restore your smile with a custom-made dental bridge in Rochester! When it comes to bridging gaps in your smile, this classic restoration offers a quick, simple, and cost-effective solution. Give us a call today to see how a dental bridge can help you!
What Is a Dental Bridge?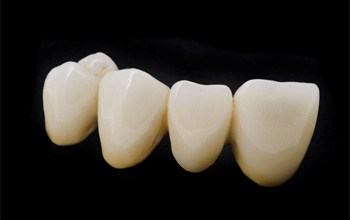 A dental bridge is a single-unit restoration that is made up of several dental crowns fused together. The replacement teeth in a dental bridge are called "pontics." Depending on how many teeth you're missing, your dental bridge may have anywhere from one to three pontics. On each end of the dental bridge is a dental crown. These crowns are placed over your natural remaining teeth or a pair of dental implants to anchor your bridge into place and seamlessly fill in the gap In your smile.
Types of Dental Bridges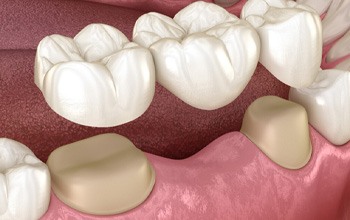 We offer two types of dental bridges depending on your unique situation and preferences. Both are crafted from high-quality dental porcelain. Not only is this material highly durable, but it can be shaded to match the color of your enamel to blend in perfectly with the rest of your smile. During your consultation, we'll help you determine if a traditional bridge or implant bridge will best suit your needs.
Traditional Dental Bridges
Traditional bridges are supported by the remaining healthy teeth on either side of the gap in your smile. They'll need to have a bit of enamel removed in order to make room for the dental crowns to fit over them. A traditional dental bridge can typically be placed in just two appointments and will last between five and seven years.
Implant Bridges
Alternatively, we can pair your dental bridge with one or two dental implants. The dental crowns on either end of the dental bridge are then secured on top of the dental implants, leaving your remaining natural teeth unaltered. While implant bridges require minor oral surgery and a treatment time that spans several months, the end result has the potential to last a lifetime.
The Benefits of Getting a Dental Bridge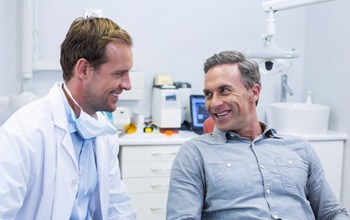 When you replace your missing teeth with a dental bridge, you can enjoy benefits like:
Prevent dental drift and a misaligned bite
A seamless way to replace missing teeth and restore your confident smile
Restored ability to eat comfortably and clean your teeth easily
Reliable, long-lasting results (5-7 years for traditional bridges, 30+ years for implant bridges)