February 25, 2019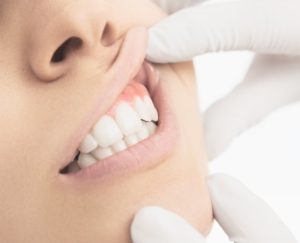 Did you know that February is Gum Disease Awareness Month? Gum disease, also called periodontal disease, is a chronic inflammatory disease that occurs in the gums and is caused by bacteria in plaque. These bacteria produce acids that irritate the gums and attack the connective tissue between them and your teeth. But don't let the name fool you: gum disease affects much more than the pink oral tissue around your teeth. By becoming more informed about this condition, you can help prevent it or get necessary gum disease therapy in Rochester to restore your oral health.
Gum disease is very common.
According to the Center for Disease Control, 47.2% of American adults ages 30 and older have periodontitis, the more advanced stage of gum disease. For adults who are 65 and older, that rate shoots up to 70.1%.
But what does gum disease look like? Here are some common signs:
Red, swollen, sensitive gums.
Bleeding gums.
Constant bad breath.
Receding gums.
Pus in between teeth.
Changes in your bite.
Loose permanent teeth.
If you experience these symptoms, contact your dentist. By keeping an eye out for these symptoms, you can catch and treat gum disease early.
Gum disease can cause tooth loss.
If gum disease goes untreated, it can have serious repercussions on your oral health. As the condition progresses, the gums pull away from the teeth, forming pockets for food particles and bacteria to accumulate. Later, the supporting tissues and bone can become permanently damaged, weakening the bond that holds teeth in place. Without gum disease therapy in Rochester, ultimately teeth can become loose and need to be removed.
Gum disease is linked to serious medical conditions.
Studies have proven a connection between gum disease and many medical conditions such as diabetes, heart disease, kidney disease, and more. For example, gums disease can increase your risk of heart disease, and poorly managed diabetes can lead to gum disease. By taking control of your oral health, you can promote your overall health. The reverse is also true: maintaining your overall health can help your oral health.
Gum disease is preventable.
The good news is that you can do something to prevent gum disease in the first place! Here are some ways you can take a proactive role in your oral health:
Brush at least twice a day.
Floss at least once a day.
Visit your dentist in Rochester twice a year for checkups and cleanings.
Drink more water.
Limit your consumption of sugar.
At minimum, becoming aware of gum disease, its signs, and ways to prevent it can help you spot gum disease and its ill effects before permanent damage can be done. If you implement good oral practices into your life, you can keep it from happening altogether and take control of your periodontal health, preserving your natural smile for years to come. For more information about gum disease, contact your dentist in Rochester.
About the Practice
At Vollo Dental Group, the dentists and staff provide comprehensive dental care for everyone in the family. They are able to expertly perform gum disease therapy to restore their patients' smiles. However, they also do their best to help their patients avoid gum disease with proper preventive care. To schedule an appointment with them, you can call (585) 225-9114 or click here.
Comments Off

on 4 Interesting Facts about Gum Disease Therapy in Rochester
No Comments
No comments yet.
RSS feed for comments on this post.
Sorry, the comment form is closed at this time.