March 27, 2019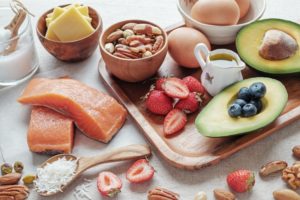 It's National Nutrition Month, and that means, your dentist in Rochester wants you to know more about the foods to eat and the ones to avoid, so you maintain a beautiful smile. It's important to remember, a healthy diet isn't only beneficial to your teeth and gums, but it also positive effects on your overall health! To learn more about how to make sure you're eating a balanced, nutritious diet, here are some things to keep in mind.
Why is a Healthy Diet Important to My Oral Health?
Everything you consume goes through the mouth, so any sugars, carbohydrates, or acids are bound to leave a trail on your teeth and gums. If you want to ensure your mouth stays healthy along with your body, you should watch the foods you eat.
For adults, this means self-control and moderation. For kids, it's being smart about which snacks and drink choices you serve them. Your children's dentist in Rochester will want to make sure their teeth are in great shape when those permanent pearly whites start coming in.
What Foods Should I Eat?
If you want to keep your teeth and gums in the best possible condition, here are a list of foods (and drinks) that will be nothing but beneficial to your mouth and overall health:
Water. This magical liquid not only keeps you hydrated, but if it contains fluoride, it's working wonders for your teeth. The fluoride makes your teeth more resistant to acids that cause cavities.
Dairy products. Things like milk, cheese, and yogurt don't have much sugar in them, which is good because you won't have to worry about cavities. They also pack a lot of protein and calcium, which will strengthen your teeth.
Lean meats. You can't go wrong with lean proteins like chicken, turkey, fish, lean beef, eggs, and milk. Not only are they rich in protein, but they contain a lot of phosphorus, too!
Fruits and Vegetables. This is a no-brainer. These are always part of a balanced diet because of their high water and fiber content. Things like broccoli, strawberries, carrots, and even grapes, can help clean your mouth of the sugar these items contain, and the chewing you'll do stimulates salvia, which is good for washing away harmful bacteria.
Nuts. The benefit of increased saliva production that comes from fruits and veggies also comes from nuts. And these tiny treasures are low in carbohydrates, so there's no need to worry about bacteria that can cause cavities!
What Foods Should I Avoid?
While there are plenty of good, delicious foods you can eat, there are also plenty you should avoid. These include:
Hard candies. The amount of sugar can lead to cavities, and the hard consistency can cause you to chip or crack a tooth! Try sugarless gum instead.
Ice. Just like hard candy, ice is a hard substance that can lead to a dental emergency. Even if you don't crack a tooth, though, chewing ice can damage the enamel of your teeth. Enjoy the water, not the ice.
Citrus. Whether it's a juice orange or yummy cup of apple juice, all citrus fruits and juices should be consumed in moderation. Acidic foods can wear away at your enamel, which makes you more prone to decay. Water is always the best choice.
Caffeine. Too much coffee or soda can stain your teeth. In addition, the sugar you put in your coffee, as well as the sugar already found in sodas, can lead to cavities. As always, drink plenty of water to balance out the liquid intake.
Sticky foods. Dried fruits and trail mixes that contain sticky foods can be harmful to your teeth because of their ability to stay in place. The sugar can stay on your teeth, causing bacteria to eat away at the enamel. If you do eat these types of snacks, make sure to brush and floss afterward to get rid of any stuck-on foods.
It's time to get serious about your diet and your oral health! If you need help, your dentist in Rochester will be more than happy to talk to you about which foods are best for maintaining healthy teeth and gums.
About the Practice
At Vollo Dental Group, we are passionate about our patients. We offer modern dentistry paired with family-focused comfort. Not only do we care about your teeth and gums, but we care about your overall health, too! Our highly-skilled team will work to ensure your dental needs are met. To learn more about us and the services we offer, contact us via our website or by calling (585) 225-9114.
Comments Off

on A Dentist in Rochester Says a Nutritious Diet is Essential for Your Teeth
No Comments
No comments yet.
RSS feed for comments on this post.
Sorry, the comment form is closed at this time.