April 7, 2019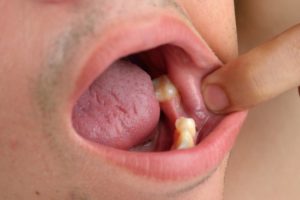 Are the gaping holes in your mouth generating unwanted attention? Has anyone ever asked if you feel you should do something about your missing teeth? If so, then maybe it's time to consider tooth replacement options such as dental implants in Rochester, dentures, or dental bridges. While all are viable solutions to regaining your smile, you may find you prefer one over the over. Let's look at these three options, so you and your dentist can determine which one is right for you.
Dental Implants: The Permanent Solution
Your jawbone is a powerful thing. Not only does it serve an aesthetic purpose, providing you with a healthy, strong facial appearance, but it holds your teeth in place. This is crucial because of the negative effects bone deterioration can have on your oral and overall health. When faced with missing teeth, dental implants are considered the optimal solution. This is often because of their permanency and durability.
Dental implants are titanium posts that act as the root of your tooth. They're surgically placed into your bone and topped with a custom crown. Your dentist can work with you and the dental lab to create an artificial tooth that matches the color, size, and shape of your nearby teeth, creating a seamless smile.
The benefits of dental implants include:
A natural look and feel, making it almost impossible for anyone to notice a difference between your artificial and natural teeth
A longer-lasting solution. Dental implants can last for decades if properly maintained.
Added stability because of the way they are surgically placed within the jawbone.
Improved oral health, as it prevents bone deterioration that can cause teeth to shift or facial collapse.
Dentures: The More Affordable Option
If the price of dental implants may seem a bit too steep for your budget, there is a more affordable option with dentures in Rochester. For dentures to stay in place, it requires natural suction and maybe some additional adhesive for added security. Thanks to modern advances, dentures are now much more comfortable and fit better than ever.
The added benefits of dentures are:
They can last 5 to 10 years
They don't require surgery
You can receive full or partial dentures depending on how many teeth you need to have replaced
You can also talk to your dentist about implant-retained dentures, that offer a more permanent solution.
Dental Bridges: The Sturdy Solution
If you're needing to replace one or more missing teeth in a row, dental bridges are a great option for "bridging" the gap. A dental bridge will use dental crowns that are placed over your natural teeth or dental implants to hold it in place.
A traditional bridge will require your dentist to remove some of the enamel from nearby teeth, so the crown will fit properly. After creating an impression, your customized restoration will be created. Your dentist will then place the bridge. Should you opt for an implant-retained bridge, it will be held into place by dental implants instead of your natural teeth. Stronger than a traditional bridge, it doesn't require nearby teeth to be altered.
There are some great options for replacing missing teeth, so don't wait! Fill in those gaps and gaping holes, and talk to your dentist about which solution is right for you!
About the Practice
At Vollo Dental Group, we know having a complete smile is important. Not only does it look aesthetically pleasing, but it's also a sign of good oral health. If you are missing one or more teeth and need a replacement solution, look no further! Let us help you achieve the smile of your dreams. To learn more about us and the services we offer, contact us via our website or by calling (585) 225-9114.
Comments Off

on Incomplete Smile? Here Are 3 Options to Replace Your Missing Teeth
No Comments
No comments yet.
RSS feed for comments on this post.
Sorry, the comment form is closed at this time.