June 17, 2019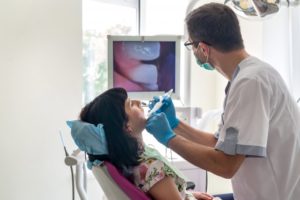 While researching the best dentists in Rochester, you probably never considered asking them about the technology they use to help catch and treat oral issues. Dental advancements have allowed professionals to stay on top of the smallest problems and provide treatment before they progress into anything serious. Don't leave your oral health up to chance; instead, learn how modern technology can save you headaches, time, and money.
Get Your Restoration Faster With CEREC Crowns
If you need a new crown because of a damaged tooth, it typically takes two visits to your dentist. This can be a hassle when it was already a struggle to clear your busy schedule for the initial appointment. With CEREC technology, your dentist can create a high-quality custom restoration right in their office while you wait. Maximize your time by visiting a dentist with the best technology in Rochester.
Delicate Care With A Soft Tissue Laser
When your dentist is working with delicate gum tissue around a decayed tooth, they want to be as gentle and non-invasive as possible. The soft tissue laser allows them to treat your oral health issues more effectively and efficiently than ever. This precise tool is safe and sterile, so your recovery time will be fast, and the symptoms will be minimal.
Precision And 3D Cone Beam Imaging
When you're investing your time and money into a restorative procedure such as dental implants, precision and accuracy are the top priorities. 3D Cone Beam imaging allows your dentist to capture a full detailed image of your teeth, jaw, skull, and the smallest nuances of your facial nerves, sinuses, and bone density. Your dental professionals can deliver the best results with technology that allows them a detailed eye.
Tackle Tiny Problems With Intraoral Cameras
Some problems hide in the smallest crevices of your mouth. Even the best trained professional can't spot tiny issues with the naked eye. That's where the high-resolution intraoral camera comes in. This tool gives your dentist the ability to zoom in, take pictures, and see video of hard-to-reach places in your mouth. It's a small-tipped wand that comfortably fits in your mouth and transmits immediate footage of wherever it's pointing. The image it provides gives your dentist the ability to identify problems, explain and show how treatments will benefit you, and inform and give you a visual representation of the state of your oral health.
There's no need to wonder about the quality of treatment you're getting when you visit a dentist that utilizes the newest technology. Getting the green light on your oral health and trusting your professional's opinion can ease your worries and give you peace-of-mind you deserve. You deserve the best, so don't short-change yourself!
About the Author
After Dr. Katherine Vollo graduated from the School of Dental Medicine at the University of Buffalo, she completed an Advanced Education in General Dentistry residency program. She takes pride in being able to provide her patients with the high-quality care they can trust in. She also knows the impact that a healthy and beautiful smile can have on a person, which is why she takes the time to understand each of her patients' oral goals. For questions or to schedule an appointment, visit Vollo Dental Group's website or contact 585-225-9114.
Comments Off

on A Dentist In Rochester Gives You The Best Treatment Using The Latest Technology
No Comments
No comments yet.
RSS feed for comments on this post.
Sorry, the comment form is closed at this time.