September 30, 2019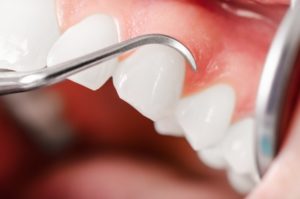 Your gums are the healthy and strong foundation that hold your teeth to stay in place and allow you to easily complete daily functions like chewing. Unfortunately, common oral health problems like gum disease can wreak havoc on your mouth and even affect other parts of your body like your heart and respiratory system. In honor of National Gum Care Month, your dentist in Rochester offers five ways you can keep your gums in tip-top shape below.
Flossing Every Day
Many people put flossing their teeth on the backburner. However, it's recommended by the American Dental Association to maintain healthy gums. Whether you floss in the morning or at night doesn't matter, it's just important to do to prevent the accumulation of food particles and cavities from developing. Keep in mind that bleeding gums in Rochester when you floss can also be a sign of gum disease.
Regular Dental Checkups and Cleanings
One of the best preventive measures you can take for your oral health is to visit your dentist every six months for regular checkups and cleanings. Many patients wonder why this is necessary if they're diligent about brushing and flossing at home. Your regular toothbrush can't reach into the nooks and crannies of your mouth that professional dental gadgets like scalers can. Plus, many oral health problems can develop below the surface and can only be diagnosed using digital X-rays or other advanced dental technology.
Quitting Bad Oral Habits Like Smoking
Smoking cigarettes is a notoriously bad oral habit. It weakens your immune system and your mouth's ability to fight off infections and harmful oral bacteria. It also reduces your blood flow, making it difficult for your gums to heal if they've been damaged. When you quit smoking, you'll reduce your risk of dry mouth, which is also a leading factor in the development of gum disease.
Using Antibacterial Mouthwash
When you choose oral hygiene products like fluoride toothpaste and antibacterial mouthwash, you're taking extra steps to prevent bacteria accumulation. When your mouth becomes overrun with harmful oral bacteria, you'll notice that your gums will bleed and become swollen, irritated, and discolored. The best way to combat this is by rinsing your mouth once a day after you brush and floss.
Maintaining a Nutritious Diet
Many people wouldn't associate their diet with the development of oral health problems like cavities. However, when sugars and carbohydrates mix with your saliva, they form a harmful substance that coats your teeth called plaque. Bacteria can feed and attach to plaque, eventually infecting your gums. When you're conscious about what you consume, you can reduce your risk of dental decay and infection.
Next time you visit your dentist for your checkup and cleaning, ask them for recommendations on oral hygiene products and whether gum disease treatment in Rochester could benefit you. If you have any concerns or questions about the health of your gums, remember not to wait, because it could lead to some more serious issues down the road.
About the Author
Dr. Katherine Vollo has advanced her education by completing a residency program in general dentistry. While she was there, she took a keen interest in full-mouth aesthetic rehabilitations. She also participates in dental outreach programs to provide necessary treatment to underserved areas such as the Dominican Republic. With a focus on providing high-quality preventive treatment, she's able to spot and treat small oral health problems before they cause her patients discomfort or additional issues. For questions or to schedule a routine checkup and cleaning, visit Vollo Dental Group's website or call 585-225-9114.
Comments Off

on 5 Ways to Keep Your Mouth Healthy During National Gum Care Month
No Comments
No comments yet.
RSS feed for comments on this post.
Sorry, the comment form is closed at this time.