October 3, 2019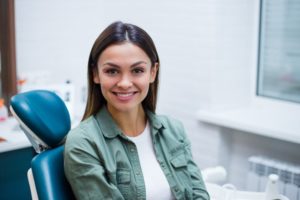 Unsure how to best care for your teeth and gums? What about your tongue or your overall health? October is National Dental Hygiene Month, which means, your dentist is eager to discuss the benefits that come with a healthy mouth. Although a regular cleaning and dental checkup in Rochester are vitally important, so is your ability to take the appropriate steps at home to take care of your mouth and body. Hear from an expert who explains what you can to improve your oral health this month.
The Importance of Healthy Teeth and Gums
Your dentist in Rochester likely stresses the importance of regular dental checkups and cleanings, but do you know why it's important to maintain good oral hygiene all year round? The reasons are many, but if you want to avoid the possibility of tooth decay, cavities, gum disease, oral cancer, and other dental problems from developing, it's important to make sure you're practicing proper oral hygiene habits at home.
When problems arise, it's not only your mouth that is negatively impacted but your body, too. Periodontal disease (gum disease) can manifest with red, inflamed, bleeding gums and enter the bloodstream once it has escalated to periodontitis. If this happens, it can not only lead to tooth and bone loss but also heart disease, diabetes, and even neurological disorders like Alzheimer's and Dementia.
By maintaining healthy teeth and gums, you avoid the pitfalls that come with poor oral hygiene and instead, improve your appearance and confidence for years to come.
4 Benefits of Good Oral Health
If you're wondering why there is such high importance of keeping your mouth clean, here are 4 benefits of maintaining good oral health:
Improves appearance: Your natural teeth are meant to stay in your mouth as long as possible. It is the goal of your dentist to do everything possible to make that happen; however, if teeth are missing, this can impact your oral and overall health as well as your facial appearance. If you want to avoid a saggy appearance, make sure you're brushing, flossing, rinsing, and seeing your dentist for regular checkups twice a year.
Increases confidence: When you look your best, you feel your best, right? Whether it's an upcoming job interview or your best friend's wedding, you want a smile that will capture the attention of others in a positive way. By pursuing preventive care at home or at your local dentist's office, you can take charge of your smile's aesthetic and begin to exude the confidence you need.
Saves money: When dental problems don't exist, you'll get to keep more money in your wallet, which means buying that boat you've always wanted. Each time you visit your dentist and are given the "thumbs up" for your oral health, that's less money you'll be spending on extensive (and expensive) treatments and procedures to fix your smile.
Saves your life: While this might seem hard to believe, maintaining good oral hygiene can save your life. The mouth and body are closely connected, which means, when problems exist in the mouth, you can expect signs to develop within your body that can be tied back to your dental issue. From gum disease to tooth decay to oral cancer, if left untreated, these problems can all impact your overall well-being in a negative way.
By spending the recommended amount of time taking care of your oral health each day, you can enjoy the benefits of a healthy smile for the rest of your life.
About the Author
Dr. Joseph Vollo earned his DDS degree at SUNY Buffalo before completing a post-doctoral Advanced Education in General Dentistry residency at the Western New York Veterans Hospital. He and his colleague (and wife), Dr. Katherine Vollo, strive to offer patients the care they need to achieve healthy smiles as well as the educational information to better protect their teeth and gums while at home. To learn more about us and the services we offer, contact us via our website or call (585) 225-9114.
Comments Off

on Want a Healthier Smile? Here Are 4 Benefits to Having Good Oral Hygiene
No Comments
No comments yet.
RSS feed for comments on this post.
Sorry, the comment form is closed at this time.