September 27, 2020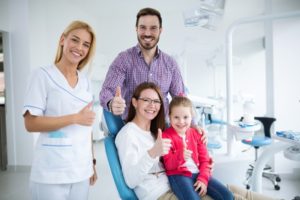 Juggling all your loved ones' dental checkups and appointments can easily become overwhelming. Between coordinating visits, driving all over town, and keeping track of paperwork, keeping your family's oral health on track can feel like a complicated task. Thankfully, you can take the hassle out of dental care by switching to a Rochester family dentist! Here are five important benefits you can enjoy when you choose to bring the whole family to the same experienced and friendly dental professional.
1.) Convenient Scheduling & Appointments
Are you tired of driving all over town and coordinating all your family's dental appointments at different practices? When you visit a family dentist, all your loved ones can be treated at the same place. You'll be able to make an appointment for your child, teenager, spouse, parents, and yourself all with a single call!
2.) Treatments for Smiles of All Ages
Growing smiles need special care. Is it time for your little one's first checkup? Does your child need help preventing cavities? Does your teenager need their wisdom teeth removed? A Rochester children's dentist has the specialized training and services your son or daughter needs to keep their smile happy and healthy as they grow.
3.) A Variety of Services Under One Roof
Children aren't the only ones who need unique treatments. The Rochester dentist that's right for your family should be able to provide a comprehensive menu of services under one roof. From tooth replacement, to gum disease treatment, to cosmetic dentistry, your family dentist has the services to address a variety of unique needs.
4.) Know Where to Turn in a Dental Emergency
Broken, knocked-out, and painful teeth rarely occur at a convenient time. In these often overwhelming situations, it's important to know where to go to get the quick, compassionate care you or your loved one needs. Seeing a dentist that the whole family is familiar with can go a long way in taking some of the stress and chaos out of a dental emergency.
5.) Identify Easily Overlooked Hereditary Issues
Many patients forget that their genetics play a key role in their oral health, the development of their teeth, and their susceptibility to certain issues. A family dentist has the unique opportunity to monitor all your loved ones' smiles at the same time, which allows them to pick up on patterns that may otherwise go undetected. This way, they can provide even more personalized care for your family.
Maintaining your family's oral health shouldn't be complicated. Set your loved ones up for a lifetime of happy, healthy smiles by taking them to a Rochester family dentist!
About the Practice
The compassionate husband-and-wife team of Vollo Dental Group are proud to provide exceptional dentistry for the families of Rochester, NY and the surrounding areas. Drs. Joseph and Katherine Vollo have years of experience in a variety of advanced dental topics and have improved countless smiles with the most comfortable and effective treatments possible. With a convenient location, affordable payment options, and a comprehensive menu of services, they strive to make oral health care for the whole family a pleasant experience! To learn more, they can be contacted via their website or at (585) 225-9114.
Comments Off

on 5 Benefits of Choosing a Family Dentist
No Comments
No comments yet.
RSS feed for comments on this post.
Sorry, the comment form is closed at this time.