October 13, 2020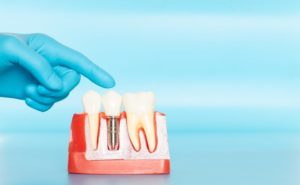 Dental implants in Rochester have revolutionized the way we treat tooth loss. Unlike traditional options like dentures and dental bridges that need to be replaced after several years, dental implants have the potential to last for 30 years or more. However, while they boast an astonishing success rate of over 95%, there is still the remote chance of failure. Thankfully, there are plenty of precautions you can take to ensure your new smile stays healthy and strong. Your Rochester dentist shares a few of the best ways to ensure your dental implants stay firmly in place for decades to come.
Choose an Implant Dentist with a Cone Beam Scanner
Dental implants get their secure foundation from a process called osseointegration. This is where the titanium implant posts that have been surgically placed in your jaw fuse with the surrounding bone tissue. To maximize the success and comfort of your treatment, it's essential that your highly trained implant dentist places your dental implants in precisely the right areas of your jawbone.
That's why you should always choose a dentist that has advanced technology like the cone beam scanner. This 3D imaging system allows them to capture detailed images of your mouth, including facial nerves, sinus passageways, and bone density. Before your treatment, your dentist will use these images to map out the placement of your dental implants to ensure the most comfortable and successful results.
More Tips for Preventing Dental Implant Failure
Once your dental implants have been placed, you'll need to take good care of them to prevent dental implant failure. A few simple yet important steps you can take to reduce your risk include:
Practicing great oral hygiene: Daily brushing, flossing, and rinsing with mouthwash will keep the tissues that support your dental implants healthy and strong.
Quitting bad habits: Chewing or smoking tobacco, using your teeth to open packages, and chewing on hard objects can loosen and weaken your dental implants.
Increasing your calcium intake: Consider adding more low-fat dairy products and other foods or beverages that contain calcium to encourage stronger bones.
Visiting your dentist twice a year: Routine dental checkups and cleanings every six months are essential for keeping your dental implant clean, healthy, and strong.
Treating oral health issues early: Problems like gum disease and bruxism (teeth grinding) can threaten the success of your dental implant, so visit your dentist twice a year for checkups and treat these issues as soon as possible if they're detected.
With the right care, you can easily expect your new dental implants to last you a lifetime. To see if this potentially permanent solution to tooth loss is right for you, don't hesitate to contact your dentist for a consultation.
About the Practice
At Vollo Dental Group, Drs. Joseph and Katherine Vollo are dedicated to providing high-quality dentistry for the smiles of Rochester. They go above and beyond to create a relaxing, comfortable environment to get the dental care you need. In addition, they've outfitted their practice with the latest dental technology, including the cone beam scanner, to ensure your treatments are as fast, comfortable, and effective as possible. To see if dental implants are right for you, don't hesitate to contact them via their website or at (585) 225-9114.
Comments Off

on How to Avoid Dental Implant Failure
No Comments
No comments yet.
RSS feed for comments on this post.
Sorry, the comment form is closed at this time.