January 28, 2021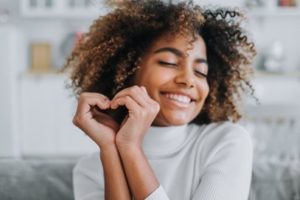 February often signals thoughts of love and valentines, but there is at least one more way to take care of your heart! Your heart is the most important organ in your body, so it's important to do all you can to protect it by protecting your oral health. Keep reading to learn why your dental hygiene is in the spotlight during American Heart Health Month and what you can do to lower your risk of a cardiovascular event.
The Connection
Gum disease is an infection caused by a buildup of oral bacteria and leads to inflamed, puss-filled pockets along the gum line. Doctors have studied the link between gum disease and coronary heart disease for more than a decade. The connection was found to lie between the buildup of harmful bacteria in the mouth and its ability to travel through the bloodstream to other parts of the body. Streptococcus sanguis, a strain of bacteria that is common in gum disease, plays a key role in spreading infection to the heart or the brain.
The Affects
Coronary heart disease is a disorder that is caused by a condition known as atherosclerosis, which is the buildup of plaque in the arteries (not dental plaque, but cholesterol deposits) that restricts the freedom of blood flow over time. Scientists have found oral bacteria in the fatty deposits in the arteries of individuals with atherosclerosis and have concluded that individuals with gum disease are 2 to 3 times more likely to suffer a heart attack or stroke.
How to Protect Your Heart
While you may not be able to completely protect yourself from heart attacks and strokes, there are steps you can take to reduce your risk and prevent the development of gum disease in Rochester.
Floss at least once per day
Brush your teeth for two minutes twice a day
Visit your dentist regularly for exams and checkups
Stop using tobacco products
A healthy heart is important to maintaining your overall health. Practicing proper dental hygiene will minimize your risk of gum disease, as well as heart attacks and strokes caused by oral bacteria.
About the Practice The husband-and-wife team of dentists at Vollo Dental Group is dedicated to providing every patient with modern, comprehensive dentistry in a family-focused environment. Drs. Joseph Vollo and Katherine Vollo received their dentistry education at the University of Buffalo and their post-doctorate residencies at the Western New York Veterans Hospital. Their professional affiliations include the American Dental Association, the New York State Dental Association and more. They offer a wide range of treatments ranging from preventive and pediatric dentistry to cosmetic and restorative dentistry. If you're in need of gum disease therapy, contact the office at (585) 225-9114 or visit the website to schedule an appointment
Comments Off

on How a Healthy Smile Can Help Protect Your Heart
No Comments
No comments yet.
RSS feed for comments on this post.
Sorry, the comment form is closed at this time.