February 7, 2021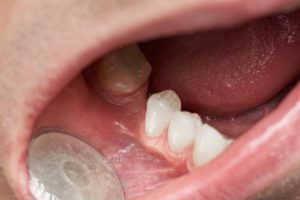 Losing a permanent tooth can feel somewhat overwhelming, especially when you're presented with so many options for replacing it. However, if the tooth you lost was towards the back of your mouth, you may not see the gap at all while smiling or talking. So do you need to replace missing teeth that no one can see? The answer is a resounding yes! Here are five big reasons why it's so important to replace a missing back tooth.
1.) Chewing Difficulties & Digestion Issues
While your front teeth are ideal for ripping and tearing, it's your back teeth that are responsible for chewing and grounding up the food you eat. Not only will it be more uncomfortable to eat without one or more of your back teeth, but swallowing partially-chewed food can lead to digestion issues.
2.) Shifting, Tilting, & Crooked Teeth
The teeth help hold each other upright and in place. When one goes missing, the neighboring teeth will begin to shift into the gap. One missing tooth in the back of your mouth could cause a domino effect that leaves you with a mouth full of crooked and uncomfortable pearly whites.
3.) Jaw Soreness & Stiffness
Your back teeth help ensure that your bite is even. When even one back tooth goes missing, you'll naturally begin to chew more on the other side of your mouth. This strains the jaw muscles and joints, making them sore and stiff. In some cases, this can lead to TMJ disorder, which may need to be treated with surgery.
4.) Older Appearance
The roots of your teeth keep the jawbone healthy, so jawbone deterioration typically occurs with tooth loss. As the jawbone shrinks away, the facial bones it supports begin to shift as well. Over time this causes a sunken, aged appearance in the facial features.
5.) Risk of Oral & Overall Health Problems
The empty space left behind by a missing tooth will easily collect plaque and food debris, especially in the back of the mouth. As these particles accumulate, they attract bacteria and increase your risk of oral health conditions like tooth decay, gum disease, and oral infections. Over time, these issues can begin to impact your overall wellbeing by raising your chances of developing a systemic condition like diabetes or heart disease.
If you're missing a back tooth, there's no better replacement option than dental implants! This modern tooth loss solution mimics missing teeth both above and below the gumline, which means it can prevent all five of the above problems. Talk to your dentist today to see if dental implants are right for you!
About the Practice
Vollo Dental Group is proud to offer friendly and personalized dental care for the smiles of Rochester and the surrounding communities. While they strive to help their patients keep their teeth for life, they are well-equipped to help you overcome tooth loss as well. Thanks to options like dental implants, they can restore your complete, confident smile good as new! To learn more, they can be contacted via their website or at (585) 225-9114.
Comments Off

on Do I Need to Replace My Missing Tooth If No One Can See It?
No Comments
No comments yet.
RSS feed for comments on this post.
Sorry, the comment form is closed at this time.