June 4, 2021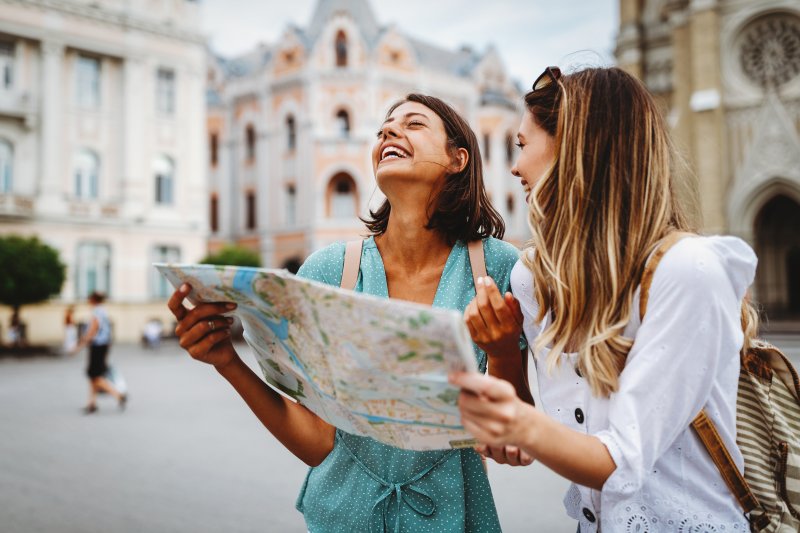 Are you about to go on vacation? Whether you're going on a road trip to another state or flying to a different country, it can be a challenge to stay on top of your oral health while traveling. However, not doing so can have detrimental effects and even derail your plans for adventure. Following proper precautions can help you get the most out of your summer days rather than spending them handling dental complications. Read on for a few tips to prevent dental emergencies from ruining your fun.
Pack an Oral Hygiene Travel Kit
A hectic summer schedule can make it challenging to stay on top of your oral hygiene routine. You may be too busy to floss or forget to brush twice a day, but being diligent helps prevent tooth decay and infection. Keep your mouth healthy while on the go by packing a kit with travel-sized essentials, such as a toothbrush, fluoride toothpaste, and floss. Having your dental care necessities within arm's reach will make it much easier for you to stay on track!
Stay Hydrated
While relaxing on the shore of a tropical beach, you may reach for a cocktail or ice-cold lemonade to cool down under the sun. The bad news is alcoholic and sugary beverages can damage your enamel and cause decay. The good news is you don't have to give up these drinks completely! Instead, limit your consumption and drink more water. Water helps wash away harmful bacteria, neutralize acid, and stimulate healthy saliva production. Keep your teeth healthy by rinsing your mouth after drinking an acidic beverage.
Prepare a Dental Emergency First Aid Kit
Be prepared when the unexpected happens by having a dental emergency kit on hand. Keep one (or two) stocked with the following items in your car or travel bag:
A card with your dentist's contact information (their office and emergency number)
Gauze
A handkerchief
A small container with a lid
Saline solution
Schedule a Checkup
Make sure you address any oral health concerns before leaving for a lengthy vacation. The last thing you want is to be stranded at your destination with no access to dental care and have a complication arise. Schedule a visit with your dentist before you depart to avoid mishaps or emergencies down the road. They can detect or treat any problems to ensure your smile is healthy and ready for an exciting trip!
Vacation is the perfect time to relax and take a break from the daily grind, but don't forget to prioritize your oral health amidst all the fun! A bright, healthy mouth will help you get the most out of your days off.
About the Practice
Our team at Vollo Dental Group offers the best of both worlds to all patients: modern dentistry paired with family-focused comfort. We do everything in our power to meet all your personal oral health needs and goals. We understand that dental emergencies can strike at a moment's notice, even during summer vacation. Whether you're a new patient or a current one, we can provide you with fast, compassionate care as soon as possible. Schedule an emergency visit via our website or call (585) 225-9114.
Comments Off

on How to Prevent a Dental Emergency from Ruining Your Vacation
No Comments
No comments yet.
RSS feed for comments on this post.
Sorry, the comment form is closed at this time.