December 10, 2020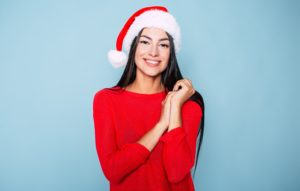 Believe it or not, the new year is only a few weeks away. As you shop for the perfect gifts and bake tasty treats, the last thing on your mind is your smile. Unfortunately, if you're not careful, the holidays can damage your teeth and gums. Don't worry, your dentist in Greece has 6 simple tips to ensure the season doesn't leave a lasting mark on your smile.
1. Commit to your oral hygiene.
The next few weeks are going to be a bit chaotic, which means it's easy to forget to brush before bed or skip your daily flossing. Although your schedule will be busier, it's important to remain committed to your oral hygiene, even if you'll be traveling for the holidays. It's best to brush your teeth at least twice a day and floss every night to keep your teeth and gums healthy.
2. Limit sugary treats.
You'll be surrounded by a variety of sweet treats; however, you'll want to watch how many you eat. Candies, cakes, and cookies aren't just bad for your waistline. They can also lead to tooth decay. It's best to avoid them altogether, but if you can't ignore your sweet tooth, limit how often you consume them. Don't forget to brush your teeth well afterward. If you can't get to your toothbrush, rinse your mouth with water or chew a piece of sugar-free gum.
3. Stay hydrated.
Besides sweet treats, there are also plenty of beverages that can damage your smile, like carbonated or alcoholic drinks. It's best to always choose water to protect your dental health. You'll keep your body hydrated without worrying about cavities or gum disease.
4. Avoid overly hard foods.
Nuts and hard candies taste great, but they increase your risk of a dental emergency. Biting an overly hard food can lead to a chipped or broken tooth. It's best to choose a different snack, so you aren't Googling, "where is a dentist near me."
5. Don't use your teeth as tools.
As you prepare meals or open gifts, it's easy to use your teeth to tear through packages. Although it's convenient, it can cause a dental emergency. You can avoid an unplanned trip to your dentist by using the right tool for the job, like scissors.
6. Visit your dentist.
The American Dental Association recommends everyone visits their dentist at least twice a year for a cleaning and checkup. If you haven't had your second hygiene appointment, there's still time to see your dentist. You'll start the new year with a healthy smile while ensuring there aren't any untreated dental issues lingering in your mouth that can interrupt your holiday plans.
You can enjoy the season without harming your smile by practicing a few easy tips. You'll ensure you begin the new year with healthy teeth and gums.
About Dr. Joseph Vollo
Dr. Vollo earned his dental degree at SUNY Buffalo and earned a post-doctoral Advanced Education in General Dentistry. He provides the exceptional services you need to maintain optimal oral health. If you need an appointment before the end of the year, contact our office today.
Comments Off

on Enjoy the Holidays without Ruining Your Teeth
No Comments
No comments yet.
RSS feed for comments on this post.
Sorry, the comment form is closed at this time.